How To Start & Grow A Construction Company
OFFER: Use Coupon Code JULYOFFER to avail 10% instant discount on all our courses (full payment plan). Offer ends July 31, 2022.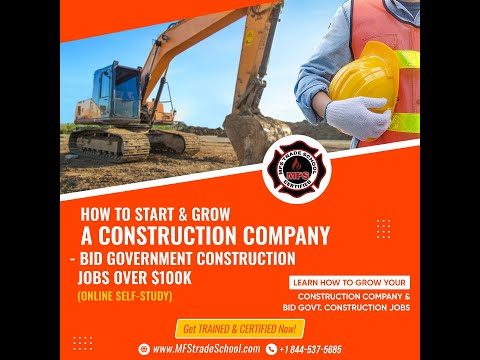 WATCH MESSAGE FROM THE FOUNDER
How To Start A Profitable Construction Company
Whether you're currently running a construction company or starting your own construction company, you need to maximize your income potential by learning trade secrets on how to get and bid big projects over $100,000 from Municipalities, Schools, Hospitals, Airports, Housing Authorities and other government funded sectors. This 2-hour online course is taught by a retired government bonded contractor that will teach you things not found in any book. Course comes with unlimited phone support.
Who Puts Out Public Entity Government Bids?
Townships, Municipalities, Bor oughs, Cities, Counties, Provinces, Parishes, DOT, Schools, Hospitals, Parks, Libraries, Fire Houses, DEP, Military bases, Hud Housing, Jails, Airports and many more! Any agency that gets federal money has to abide by proper bidding laws.
Learn How To Get Bonded & Bid On Government Entity Construction Jobs!

1,000's of construction jobs go out to bid every week from public entities and only a few prime government bonded contractors know the secret of how to get bonded and bid on them. THIS IS A TIGHTLY GUARDED SECRET that will be taught to you from a retired government bonded contractor that has been bidding public entity government work for over 20 years. Our Training Manual/Guide & Videos will teach you the foundation of how to become a bonded contractor & bid on public entity and government jobs and where to find them. There's another world of thousands of jobs from ALL the sub trades that go out to bid daily. Learn how to tap into this opportunity & learn trade secrets to expand your business. This unique information is not taught anywhere in the country. Our Training Manual/Guide & Videos will open up a world of jobs for you that you didn't even know existed.
Get 1 Year Bid Lead Service to School & Government Bids!
With our course, you will receive 1 year of bid reporting service of our choice to see projects put to bid from schools and other government funded entities like Municipalities, Counties, Jails, Hospitals and more. You can choose up to 10 key words for your type of trade and access to your whole state.
What Type Of Bids?
All types, various sizes ranging from $15,000 to $10 million and up in: General Construction, plumbing, electrical, HVAC, painting, concrete, masonry, roofing, flooring, storm drainage, water lines, road & paving, landscaping, tree cutting, pressure washing, kitchen exhaust hood cleaning, food, services, material of all types and many more.
Learn How To Bid Public Entity Government Bids
Our Training Manual/Guide & Online Videos are written and created by a retired Government Bonded Contractor. When you register for the Online Self Study course, you will get a complete Public Entity Bidding Training Manual that will give you in-depth knowledge, tips & trade secrets related to Public Entity Bidding. You will also get access to 2 of our Online Videos recorded from an actual seminar. You will also receive 1-year phone support with any questions you may have.
Our Public Entity Bidding Manual
This is the first manual of its kind and it is included as part of our program along with 2 pre-recorded 2 hour long online videos taken from a live seminar. It will reveal to you trade secrets from a retired government bonded contractor. Everything from how to get bonded to finding government contracts, to the art of bidding and winning bids. This Manual and Online Videos is a MUST if you want to know everything there is to know about Public Entity Government Bonded jobs for ALL trades and growing your construction company beyond the residential and commercial sectors.
WHAT YOU GET WITH OUR ONLINE SELF STUDY COURSE
You get access to our two Online Pre-Recorded 2 hour long Videos shot from a live class that you can view at your own pace and from the comfort of your own home or office.
You get our Public Entity Bidding Manual in Hardcopy & PDF File.
You will get introduced to our preferred bonding agent to help you get bonded.
(We are not affiliated with the bonding agent and make no guarantees you will get bonded or for how much. There is no initial fee to get bonded. You only pay for bonding if and when you win a government project. All that is explained in detail in the course).
Receive our MFS Certification of Completion for completing our course.
You get 1-year phone support for any questions you may have.
Course Fee : $1,000 ($1,500) - Limited Time Offer
Payment Plans:
Plan 1 : $1,000 per person.
Plan 2 : PayPal - 6 monthly payments with 0% interest (Must have good credit).